How Vedic Basket lotion is helpful for You
Vedic Basket's Ayurvedic Body Lotion is rich in antioxidants and vitamins that help in improving the skin texture and protect it from damage as well as itchiness caused by dry skin.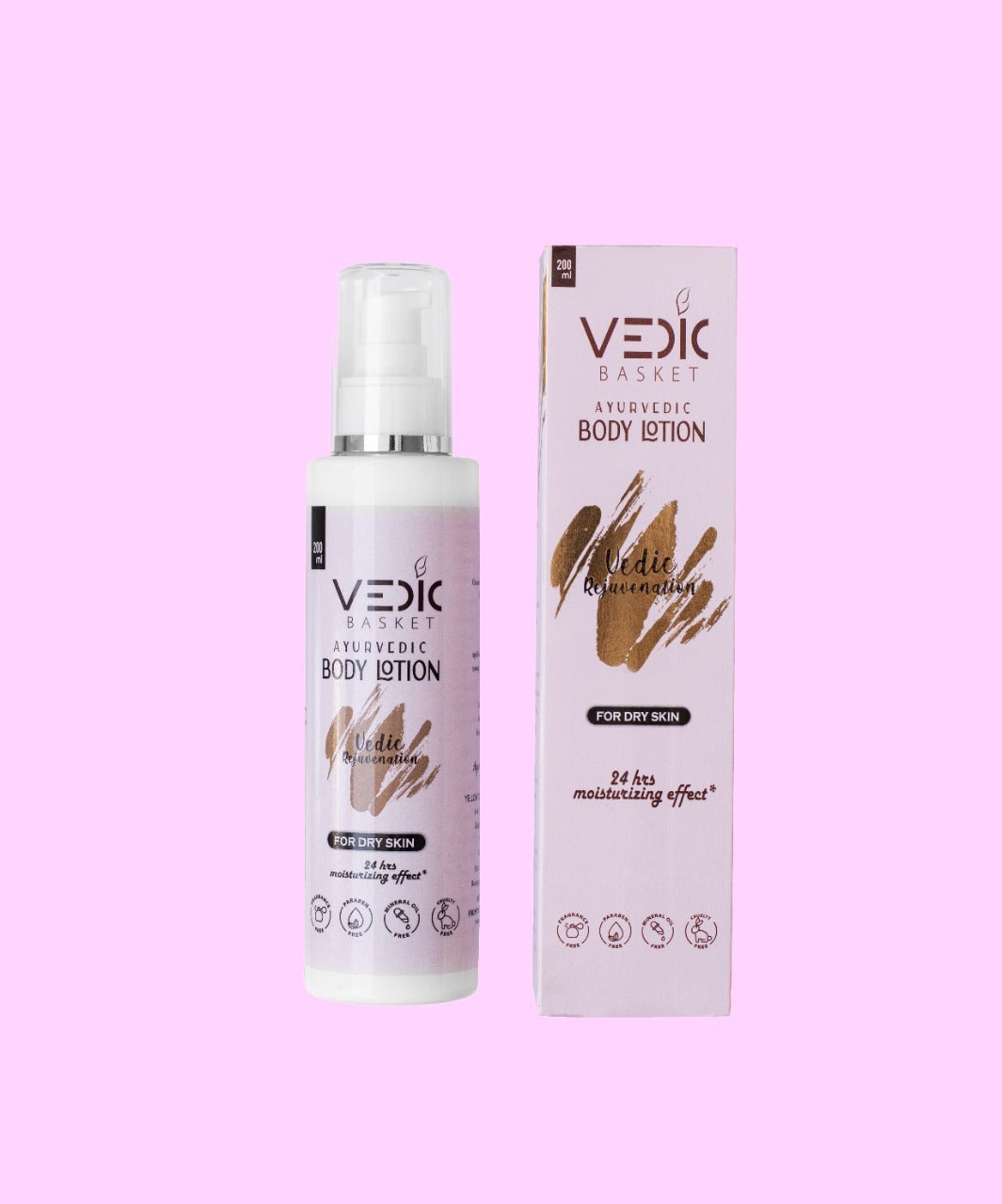 Get more about this product?
Ayurvedic body lotion creates a barrier that shields the skin from damaging environmental factors, including heat, cold, humidity, and pollution. In addition to taking care of the skin, it stops moisture loss by keeping it inside the skin. As a consequence, the skin maintains its healthy, lovely appearance. A daily, multi-purpose moisturizing lotion, ayurvedic body lotion for dry skin preserves and soothes damaged skin, leaving it healthy. It has numerous applications. It is a well-liked daytime and nighttime cream. You may also put it on your lips when you get chapped in the cold weather. The lotion is skin-friendly. It will aid in preventing and soothing dry skin all over your body, particularly in elbows, heels, cuticles, and other body regions that require additional moisture. You may apply this soothing body lotion on skin with diabetic rashes as well as sensitive skin. Apply often to achieve moisturized, soft skin.
Read More
Talk about our brand
Embrace your inner and outward beauty with our genuine natural ayurvedic product, which will help you in keeping up a healthy lifestyle.
Vedic Basket's Ayurvedic body lotion is ideal for you and your loved ones. This ayurvedic mixture reduces stress and improves general skin health, including the effects of diabetes on the skin.
Secure dehydrated skin

This body lotion is formulated with rich, skin-friendly ingredients to moisturize your skin while preventing the moisture you already have from evaporating through your epidermis. Conventionally, lotions and some general lotions are simpler to spread and apply evenly throughout your skin since creams often include more oil, and lotions typically contain more water to keep hydrating your skin. Some general lotions are available on the market, while this one is made expressly to address issues with the skin, including pigmentation, UV damage, itching, etc.

Shop Now

Effectively Heal Dryness

The first areas of a diabetic's body to exhibit dryness are the extremities. Dryness was a result of decreased blood flow. Dryness and cracking of the lower legs and feet can lead to an infection of the skin from germs. Foot skin might swell up and become thick. It's crucial for people with diabetes to inspect and moisturize their feet every day.

Check for cracks, tiny incisions, or cuts and indications of infection. Immediately treat skin breaks, but only use Ayurvedic body lotion on dry skin. Consider seeing a dermatologist if moisturizing twice a day does not help dry skin.

Show Now

Dry Skin Relief from Itching

Body lotion may replenish lost moisture and calm the skin at the same time since it is nutritious and hydrating. The unscented Ayurvedic body lotion from Vedic Basket provides intense treatment and advanced repair. It also includes vitamin E and healing micro-droplets to help refill your skin's natural moisture barrier and cure dryness. Apply to lessen itching all over your body brought on by dryness after washing and gently drying your skin.

Vedic Basket moisturizing lotion relief your dry skin with quickly absorbing quality that begins to nourish and replenish vital moisture immediately.

Shop Now
Your skin health matters
Healthy skin is every person's top priority, starting with basic skin care.
Vedic Basket strives to provide the best care in the treatment of dry skin and related ailments. With the increasing number of skin problems in the world including diabetics suffering from psoriasis, we also aim to create a range of world-class products to meet these day-to-day challenges.
Vedic Basket believes deep healing moisture is the foundation of profoundly healthy skin. With our experts and advanced Vedic Basket healing product, we can help you rescue your skin.
Regular price
Rs. 899.00
Sale price
Rs. 699.00
Unit price
per